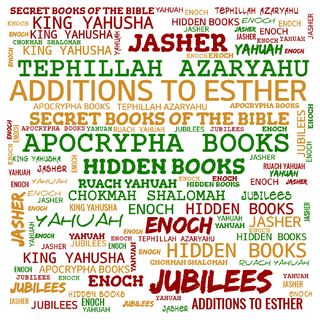 APOCRYPHA BOOKS [HIDDEN | SECRET BOOKS]
HALLELUYAH! In everything give Thanks unto The MOST HIGH YAHUAH IN HIS RUACH n TRUTH. #RUACHHAQODESH #KINGYAHUSHA

LISTEN TO THE READING OF APOCRYPHA BOOKS LIKE #CHOKMAHSHALOMAH #ENOCH #JUBILEES #JASHER #YAHUDITH #SHUSHANAH #BELANDTHEDRAGON #ADDITIONSTOESTHER

BOOKS NOT FOUND IN THE BIBLE ARE TRUTH.

LISTEN AND DISCERN...AND HEED THE WORD OF YAHUAH.

HALLELUYAH!